Home
Background
Build Diary
Links
Specification
Hints & Tips
Driving
Gallery
Here are some of my favourite car-related (and unrelated) links:
Renowned source of Rover V8 information.
Brake and oil systems components. Every fluid connector you've (n)ever wanted.

D J Ellis Ltd
Suppliers of Rover V8 parts and services.

Sejoc
Suppliers of EBC Greenstuff pads and other brake bits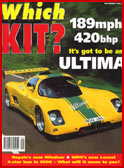 Kitcar Net
The web-site of Which Kit? and Kitcars International magazines.